Nuffnang, a core engine of the Netccentric Group of Companies with some 20,000 influencers that reach out to over 20 million followers, is a big 'mover and shaker' within the local and regional marketing scene.
Its Senior Leader in Sales & Marketing, Vivien Chew is regarded by the industry as a thought leader and trailblazer of innovative marketing practices. (Pic above – Vivien pictured alongside colleagues during the recent SourceCode 2022 Summit successfully organised and hosted by GroupM; she was a panellist speaking on the future of marketing.)
Here, Vivien presents Nuffnang's predictions of what's up and coming for marketeers in the year ahead. In particular, she focuses on the seismic shift of energy and focus on social media platforms towards the 3Vs of Digital Marketing that, although has been around for a while, is currently emerging in Malaysia as crucial trends and strategies for influencer marketing.
---
Voice
Have you ever said, 'Hey Siri', 'Okay Google', or 'Alexa'? 34% of Malaysians actually use voice search to search for answers, and a majority of them use it through smartphones.
Brands, therefore, need to consider voice marketing as part of their marketing campaigns to make their products more searchable, relevant and convenient. This is because voice searches are action-oriented and location specific, which could lead to significantly more clicks, store visits and sales.
What does this trend mean for us in 2023? Long and short of it all, there is a need to create more searchable content:
AI assistants like Siri and Google are unable to recommend products or places without the right kind of content being put out there.
This means that SEO (search engine optimisation) will play a huge part in helping brands get discovered on the first results page of search engines or voice searches.
But SEO doesn't just stop at blogs or website content with the right keywords. Social media content created today has a greater emphasis on content searchability, like video captions on TikTok and Instagram's alt-texts or bios containing targeted keywords.
As eloquently expressed by Vivien: "Searchable content is not something new to us — but we often forget that the technology that fuels search engines or search bars has advanced by leaps and bounds now. If we want to drive our efforts when working with influencers to create great content that converts, we need to be much more intentional when optimising content for this purpose."
Some application points to consider: With the Ramadan/Raya festivities coming up, there is bound to be a surge in interest toward recipe- and cooking-based content. Creators sharing these types of content on social media can further capitalise on this behaviour by focusing on social media platforms that are searchable, or by including highly searchable keywords in captions and/or alt-texts.
---
Video
Besides that, Gen Zs are gravitating towards searching for what they want via social media platforms like Instagram or TikTok, as well as creating video content and consuming video content. The latter is pretty much well known, but the former is actually a shift that is already happening. Brands need to be sure to make their products and offerings visible and impactful on social media to captivate Gen Zs.
Hence, there is a greater need to create more impactful video content:
We believe that Gen Zs are always looking for content with a purpose or content that tells a story. In the past, static images were able to address this; and it still does so today. But it's apparent that video content just does this much better through more effective purpose/value sharing and a smoother storytelling experience.
Video content also connects better with human emotions. It's been the marketing breakthrough trend for decades and, according to Forbes, 90% of customers say that product videos help them make buying decisions, while 64% say that watching a video makes them more likely to buy. According to HubSpot, 97% of marketers say that video has helped increase user understanding of their product or service.
The proof is in the pudding. In 2022, Nuffnang successfully ran a few 'Growing-Up Milk' campaigns which resulted in astounding results and massive return-on-investments:
Campaign 1 in 2022 was executed with a mixture of static and video content, whereas Campaign 2 in 2022 was executed intentionally with purely video content.
Campaign 2 demonstrated far more incredible results of a 2.5x increase in the engagement rate of the video content compared to the projected campaign benchmark.
As Vivien says: "Not just any video content is guaranteed to succeed, nor does it automatically guarantee impact. A truly impactful piece of video content is one that provides value to its audience, be it through helpful or purposeful content or storytelling."
---
Vernacular
Whether it's language, culture or beliefs, consumers are now shifting their attention towards content that is much more relatable to them on a personal level, be it through language, culture or beliefs.
As a result, it is imperative to create genuine and relatable content:
Whether we like it or not, consumers can be easily turned off by content that they cannot relate to. If it creates too much 'distance' between them, both the creator and the brand are at losing ends.
Therefore, including local vernacular in content through language, culture and beliefs can help soften this for consumers and make the overall content and brand more relatable to them!
From experience, Nuffnang can cite a well-known hygiene soap brand campaign:
Nuffnang spearheaded a catchy jingle social media campaign for the brand to promote healthy and hygienic practices.
This was followed by the creating of a social media challenge with a famous celebrity influencer for other content creators to include local vernacular in their video content.
As a result, consumers felt an emotional connection to the product, further instilling customer loyalty while enhancing the overall brand experience.
"We got local influencers to sing the jingle in their mother tongue/native languages and dialects just to bring that extra bit of impact from the influencer and brand to their audiences, since we know that relatable content works best," said Vivien.
Furthermore, it's worth mentioning that not all influencers are the right fit for every single campaign.
There are a lot more factors at play that affect whether a particular piece of content created by a creator, though including local vernacular in it, would:
Resonate with the audience,
Meet the campaign's goals,
Create impact, and ultimately,
Align with the overall brand.
The question then on our minds this year, is this: How then can we find the right fit alongside the 3Vs of Digital Marketing to help brands solve their pain points?
The 3Vs of Digital is a good starting point, and serves as an apt foundation for businesses and brands to stretch their marketing investments further, while enhancing customer experiences along the way.
---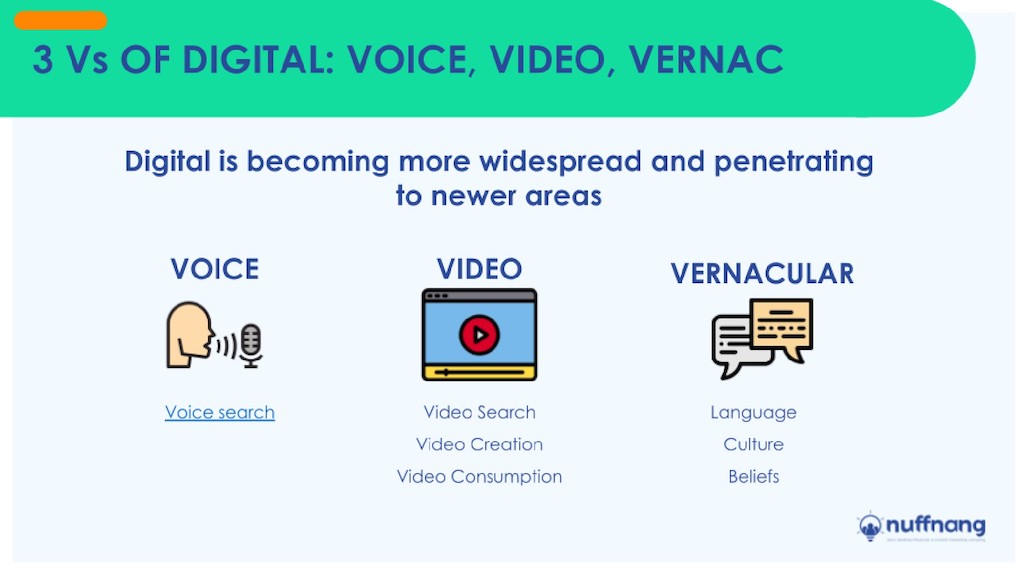 ---
To conclude, Nuffnang believes the 3Vs of Digital can be an excellent guide for marketing strategies in the year and years to come.