With over 300 clients and a network spanning 15,000 influencers, Malaysia's leading influencer community spearheaded by Nuffnang Sdn Bhd under the Netccentric Limited Group is committed to creating social impact through its vast ecosystem (team pic above).
The company is collaborating with Animal Projects & Environmental Education Sdn. Bhd. (APE Malaysia) to land its support of conservation projects in a sustainable manner. These projects aim to benefit the environment, wildlife, animals and community through monitored and measured conservation outcomes.
Nuffnang partner relations lead specialist Afreeda Nawawi said that the company encourages and invites its network of influencers to contribute to APE Malaysia's initiative called ROAR (Restore Our Amazing Rainforest) with all contributions being utilised to the process of planting trees in Lower Kinabatangan, Sabah.
The Kinabatangan River (Sungai Kinabatangan), located in Sabah, is the second longest river in Malaysia, and is known for its remarkable wildlife and fascinating habitats.
"As the ecology of the upper reaches of the river has been severely disrupted by excessive logging and clearing for plantations, there is an urgent need to replenish trees as it serves as sanctuary for a relatively decent population of wildlife," said Afreeda.
Meanwhile, APE Malaysia Project Manager Mark Louis Benedict said that, by purchasing a tree through the ROAR initiative, Malaysians would be helping to create and reconnect important forest corridors that had been degraded through deforestation.
"This can be something you do for yourself, or it can be dedicated to someone special for any occasion, such as birthdays, anniversaries or Christmas! As living and breathing organisms, trees make unique gifts as they can live for several decades, and they bring about significant benefits to our planet. Your support for this reforestation project helps to create habitats for endangered animals (which include the Bornean orangutan and Borneo Pygmy Elephant), as well as offsetting carbon footprint."
Nuffnang has thus far initiated the planting of 136 trees which involved 73 Nuffnang influencers. The aim is to encourage their influencers to plant some 300 trees of 30 various species by year-end. Nuffnang itself planted a total of 150 trees, as part of their corporate social responsibility initiatives, and will be planting more trees in the near future.
---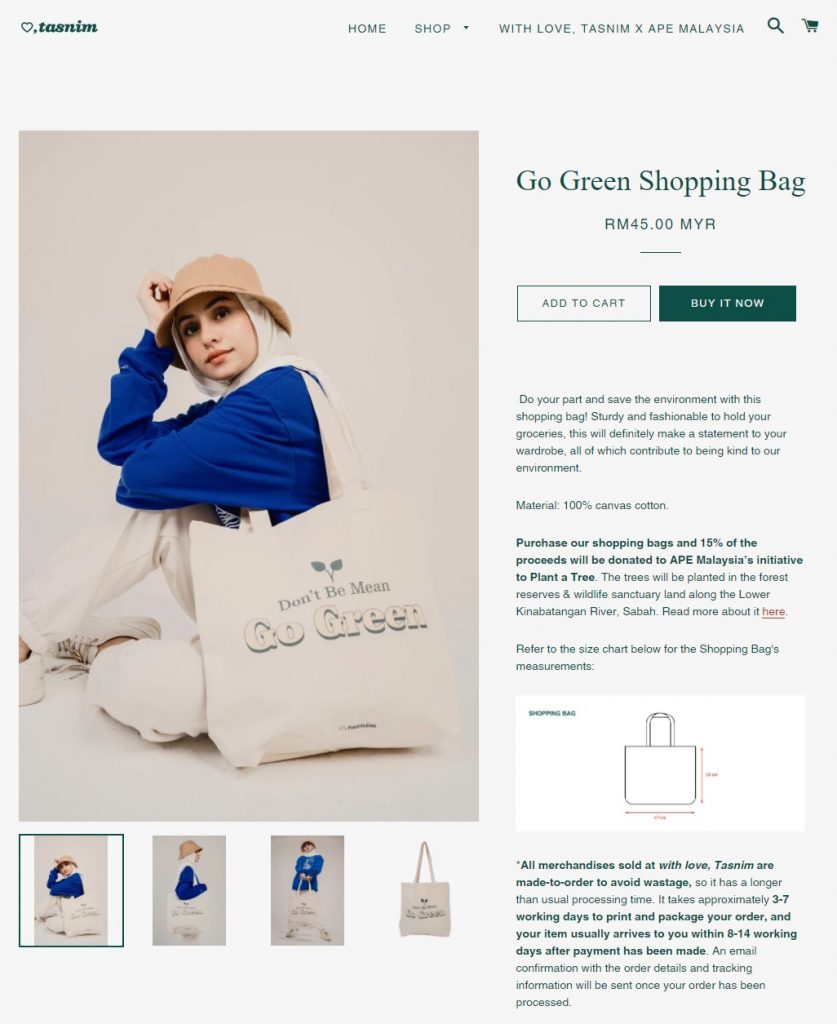 ---
To further raise funds for this worthwhile cause, the Nuffnang ecosystem is embarking on various creative initiatives, such as through its Influencer Merchandising arm where "with love, Tasnim" will be donating 15% of all sales of its eco-friendly shopping bags. (To purchase this item, please click here or here.)
From mid-October for a month, Nuffnang would also be conducting a social media campaign together with its influencers and APE Malaysia in an effort to further raise awareness of the ROAR initiative.
Influencer Shariffudin Azhar Omar described it as "very sad" that 80% of Borneo Rainforest had been ruined because of logging activities.
"Lack of trees in our rainforest will leave huge negative impacts such as greenhouse effects and species endangerment plus extinction. Which is why I want to do my part by supporting Nuffnang and APE Malaysia's effort for this ROAR project which is also in line with Kempen Kehijauan Malaysia, a tree planting campaign with the goal to plant 100 million trees by 2025," said Shariffudin.
Another influencer Muhammad Nazirul Ahmad Fauzi said that many Malaysians lack awareness on the importance of rainforest to our ecosystem.
"I want to do my part and more to support the ROAR cause, including creating greater awareness to my own circle on social media. Nuffnang and APE Malaysia are making it simple and straightforward for the public. All you need to do is to just donate RM20 and APE will plant a tree for you, in your name – it's as straightforward as this," said Nazirul.
Nuffnang is also encouraging its clients to contribute to this project, whereby the company would initiate the planting of 25 trees for each client should they choose to contribute.
In addition, further activities have been lined up to raise funds for the ROAR initiative, such as connecting its influencers with their fans, and other activities such as fitness sessions and cooking classes.
"The journey of a thousand miles start with a single step, and we hope more Malaysians will step forward in our collective efforts to 'save the planet'," concluded Afreed
If you choose to contribute to the ROAR project and plant a tree or more, please click here. It's RM20 for each tree planted on your behalf, and you will also receive an e-certificate with the exact coordinates of the tree's location.
APE Malaysia, a certified social enterprise by the Ministry of Entrepreneur Development Malaysia, comprises individuals passionate about developing a generation that works environmental conservation, animal welfare and people development into our daily, contemporary lives in as sustainable a method as possible.
Armed with various backgrounds ranging from zoology to education, members work with the single-minded determination to create holistic volunteer and education programmes at every project site embarked on. The programmes are implemented in ways that are creative, meaningful and down-to-earth.