AI-created influencers have been humanised to promote brands, and now social causes.
The controversial Calvin Klein ad, starring Bella Hadid and virtual influencer Lil Miquela, has been accused of queer-baiting (Photo: Calvin Klein)
Somewhere in the world, a crew of fictitious influencers is making real money. Born from the mind of a machine, they are not unlike the real-life iterations they are imitating, who often project the best curated version of themselves. These virtual avatars come in myriad options: flawless or freckled; political or apolitical; social-justice warrior or the next make-up muse of Rihanna's Fenty beauty line. One of them, a 19-year-old Brazilian-American musician-model by the name of Miquela Sousa (better known as Lil Miquela), has been hobnobbing with the likes of Chanel, Prada, Supreme and Samsung to rake in more than US$11.7 million in earnings last year. Has this piece of reality — or lack thereof — sunk in for you yet?
A computer-generated imagery (CGI) construct by LA-based start-up Brud, the multi-hyphenate Lil Miquela is one of many virtual influencers who are holding up a mirror to ways in which the internet has altered our definition of self. If traditional influencers radiate a nebulous charisma that magnetises their followers, digital avatars deliver that and more — they do not tire, complain or court scandals that may tarnish a brand's reputation. To make them even more human-like, they have been given entire backstories, personalities and even causes to advocate.
Facial fakery is not that novel a concept. What English band Gorillaz — represented by animated characters created in 1998 by musician Damon Albarn and artist Jamie Hewlett — is to post-MTV, is what Lil Miquela is to the modern Instagram. They have conjured up a creative escapade unbound by race and geography, except that the latter constantly maintains a camera-ready appearance and charges a lucrative US$8,500 per sponsored post to appease her 3.1 million followers. But therein lies the problem: We suspend our belief to soak up Miquela's lifestyle as though she was actually opinionated, politically engaged and progressive by supporting movements like #BlackLivesMatter or #DefendDACA. The social-political lyrics in Gorillaz's anthems, at least, are performed by a real cast who believe in what they preach.
---
---
Digital supermodel Shudu and her creator, Cameron-James Wilson
The dearth of transparency is drawing out tensions about authenticity because the narratives peddled by virtual influencers originate from their creators. South African digital supermodel Shudu, who has modelled for Vogue Australia in Tiffany & Co jewellery, hopes to champion diversity in the fashion world and lift under-represented communities. Will her creator — former fashion photographer and a white male named Cameron-James Wilson — be able to fully identify with the experiences and values that Shudu claims to uphold? Granted, Wilson worked closely with writer Ama Badu, a woman of colour, to develop Shudu's persona, but is this fake rendering of his new-found 3D hobby taking up space in a cut-throat industry where real women of colour are already struggling to find a voice?
Dark-skin black models or an "exotic" teen with "woke" consciousness is not a fad, no matter how altruistic they are designed to be. It seems almost contradictory for these virtual ingénues to urge their followers to donate to LGBTQ+ and female representation causes, while they are cashing oversized cheques and raising the bar of unrealistic beauty. To be fair, this also applies to their human counterparts, who hold great sway over social media platforms that are predicated on celebrating ideologies. They are fun to watch and some could steer intelligent conversations online about pressing current issues too, but we should also deter ourselves from worshipping at the altar of their exaggerated lives.
As much as technology has made it easier for us to inhabit fiction, the idea of employing virtual influencers in Malaysia is still nascent. There is 21-year-old Avina from Cheras, a Sims video game character lookalike that goes grocery shopping in her Guess T-shirt and Converse high tops. On a larger scale, AirAsia unveiled Miss AVA (short for AirAsia Virtual Allstar), an evolution of its chatbot, in 2020 to attend to the queries of passengers, as well as its first virtual idol Aozora Kurumi this year, who is part of the airline's Project Kavvaii to showcase talent and empower the growing VTuber (virtual YouTuber) community across Southeast Asia.
"With Kurumi, we have found a new space and community to engage with in ways we never thought of in the past. What we love about it is that the fan base has such a strong bond with the creators and idols that brands get a similar connection when championing a virtual idol," says chief brand officer Rudy Khaw, who has already launched an audition to recruit its next idol.
---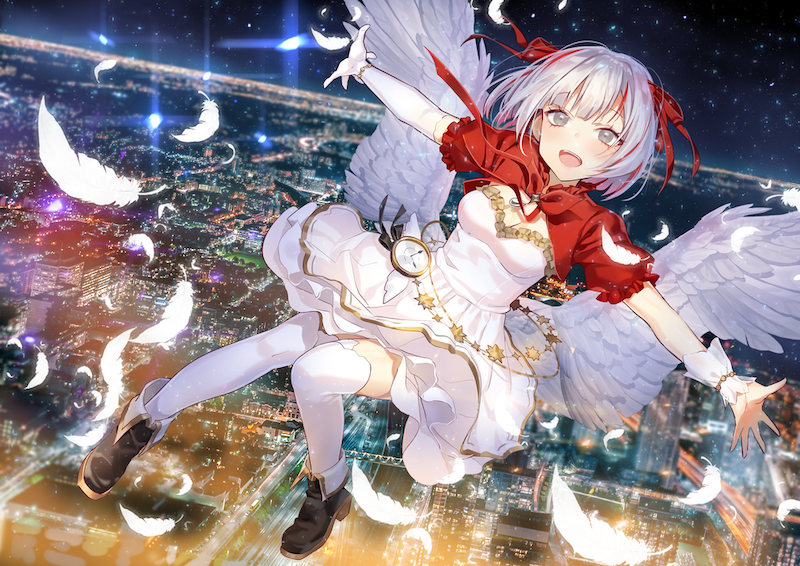 ---
Virtual idol Aozora Kurumi empowers the growing VTuber community across Southeast Asia
"Real-life influencers benefit brands by bringing along with them an existing audience, fan base and their own creative mindset. Virtual influencers, however, allow us to cross between real life and a fantasy world that we shape. [As for their impact on the current social media landscape], I think there is room for both virtual and real influencers to exist. We've seen this happen when Lil Miquela collaborated with real-life artists or when Japanese VTuber Kizuna Ai performed in concerts with an actual backing band."
On the other hand, Kausern Hieu, country manager of Nuffnang Malaysia — the nation's pioneering influencer and content marketing company — says virtual influencers have shown the greatest potential in countries such as Japan and China instead. "We have seen some brands in this region toying with them for a few years now, but they have yet to take off in a very big way. However, the latest announcement by Mark Zuckerberg about the metaverse has accelerated [the prominence of] virtual influencers and non-fungible tokens (NFTs) because they now have utility and application in this universe."
Although Nuffnang is receptive to the thought of working with virtual influencers on condition that they fit the brand, Hieu asserts that the trend is slow on the uptake because the upkeep and management of these digital entities require significant investments. "It's much faster to collaborate with a human influencer. You just pick up the phone and call them, whereas each posting of a virtual influencer would consume more time because it must be first ideated, then designed and rendered to achieve a brand campaign objective."
The rising presence of computer-generated celebrities has been harshly criticised for muddying the already blurred lines between reality and artifice on social media but brands, which have shifted their marketing strategy in tandem with the trend, are convinced that artificial intelligence (AI)-savvy consumers will still be hooked, whether it is a bot or a boy they are engaging with.
---
---
"The starting point of any influencer, whether human or virtual, is to be able to deliver value to their audience in an interesting manner. These are the fundamentals of why someone would want to follow an influencer of any form. It won't matter to the [AI] universe even if it's a virtual influencer they are engaging with because there's a value exchange and it's a 'as real as it can get' experience," says Hieu, who also believes virtual influencers will not replace human influencers but co-exist with them instead.
The central paradox of an influencer often means allowing your self-worth to be shaped by crowds of people you will never meet. Yet, more companies are moulding, from scratch, their ideal ambassadors that will align with their values and interests to dictate consumer habits. We can debate the virtues of truth and honesty in advertising all we want, but a legion of firm believers will still continue to follow Lil Miquela, Shudu, Prada's latest perfume rep Candy and their cohorts because they are fodder for entertaining stories.
Automation, robotics and AI are capable of mimicking or even surpassing our brains but instead of treating this Darwin versus Data as a zero-sum competition, perhaps the way forward is to adopt a win-win approach of human-algorithm collaboration.
This article first appeared on Dec 13, 2021 in The Edge Malaysia.