One of Malaysia's and Southeast Asia's leading social commerce platforms, Australian Securities Exchange-listed Netccentric Limited (together with its subsidiaries), has announced a proposed name change to Xamble Group Limited (Xamble) to reflect on its new mobile influencer platform set to diversify its revenue streams while providing new growth opportunities.
Its Executive Chairman and majority shareholder Ganesh Kumar Bangah said that the name 'Xamble' (pronounced 'x-em-bl') was inspired by the Group's vision of 'Assembling Communities' to deliver prosperity and value to its ecosystem of brands, influencers or 'creators', and consumers.
"The name 'Xamble' brings to life our existing business operations and aspirations to build Asia's largest digital society, leveraging content to influence purchasing decisions and add value to our ecosystem of brands, creators and consumers," said Ganesh in a press release.
Xamble has worked with more than 300 brands including the likes of KFC, Unilever, P&G and Hasbro, and has access to over 20,000 influencers that reach over 20 million consumers in Malaysia, Singapore and Taiwan through its influencer marketing arm, Nuffnang.
The corporate rebrand coincides with the release of the Group's new app, Xamble Creators, which improves collaboration between micro and nano influencers and brands.
"This new platform empowers influencers to better monetise their content and networks," said Ganesh. "Xamble Creators enables influencers to find interest-aligned brand campaigns, be invited to participate in exclusive brand campaigns, and receive payment for their content."
The platform will soon be integrated with Open AI's ChatGPT to provide influencers with suggested social media posts based on the campaign brief and preferred tone of voice.
The Group is also introducing a visual representation of the new brand called "Xb". Xb is a virtual robot that will appear across the Group's platforms and will provide virtual tutorials and suggested social media posts to its influencers.
---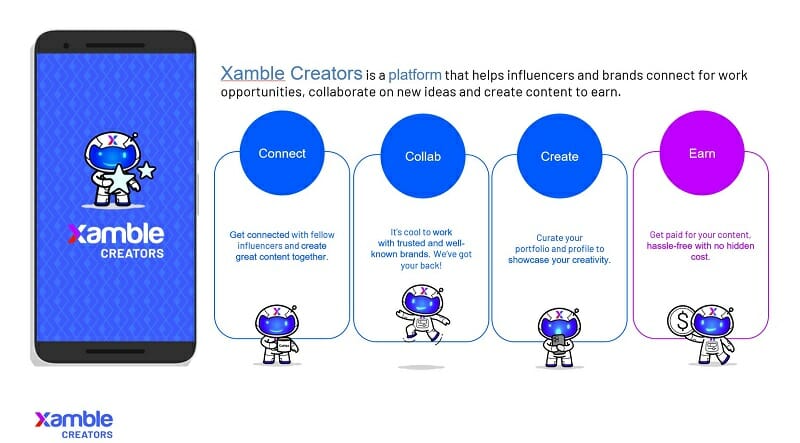 ---
Xamble Creators has already gone live on the iOS App Store, Android Play Store and Huawei AppGallery.
Xamble Creators' revenue models will be monetised through new software-as-a-service (SaaS) and fintech revenue streams for the Group.
"The Xamble Creators platform has been designed specifically for Asia's largest influencer category – micro and nano influencers – who have more personal and authentic interactions with consumers and engage more often with their audience than other influencer types," said Ganesh.
"The ability to access a readily available pool of influencers provides our brand partners through Nuffnang with a unique selling proposition while delivering greater efficiency and smoother workflows for both brands and our influencers.
Xamble Creators will also be introducing a 'verified' list of influencers which will take into account the more qualitative aspects of an influencer and address common concerns from brands when engaging influencers such as timeliness, draft quality, credibility, and more. This will enable 'brand-fit' where selected influencers are matched with the brand's values and campaign objectives.
"More importantly, Xamble Creators will diversify our revenue streams, while enabling us to effectively enter new industries and geographies and expand into the large SME market which will drive long-term revenue growth."